SKU:18FM_DP_CDP+1
Regular price
Sale price
$55.00 USD
Unit price
per
Sale
Sold out
VINYL INSTALLATION TOOL SUGGESTION
Introducing our stunning Printed Aluminum Dash Plates - the perfect way to customize and enhance the interior of your vehicle. Made from high-quality aluminum, these dash plates are designed to provide a sleek and polished look to your car's dashboard.

Our dash plates are not just stylish but also highly functional. They offer superior durability and resistance to wear and tear, ensuring they stand up to the rigors of daily use. The plates are water-resistant, making them easy to clean and maintain.

What sets our Printed Aluminum Dash Plates apart is the high-quality printing technology we use. We utilize state-of-the-art printers that ensure the printed image is vibrant, sharp, and long-lasting. Whether you want to order one of our original designs, showcase your favorite sports team, a custom design or a personal message, our dash plates provide an excellent canvas for your creativity. The installation of our Printed Aluminum Dash Plates is a breeze. They come with pre-applied adhesive tape, making them easy to attach to your dashboard, with the same rounded corners so that it seems that your Mustang came with this plate from the factory.

With our Printed Aluminum Dash Plates, you can add a touch of style and personality to your vehicle's interior. They make the perfect gift for any car enthusiast, or as a personal treat to add that extra touch of luxury to your driving experience. Order your Printed Aluminum Dash Plates today and take your car's interior to the next level!

**2018-2023 year models must remove stock plate prior to placing this plate, which is an easy process that simply requires heating up the stock plate slightly with a heat gun or hair dryer and prying it off with a non marring tool.

What's included:
(1) Printed Custom Dash Plate

IMPORTANT THINGS TO KNOW: Once you place your order one of our graphic artist will be in touch with you over email (within 24 hours) - they will ask for all of the information that you would like printed on your plate and if you have any high quality images you would like to include. ** If you have any ideas or image feel free to use the FILE UPLOAD feature (not required).

Turn around to your first proof is dependent on our current volume, but is usually right around 1-2 days. You may go back and forth as many times as necessary - what is important is that you end up with a perfect end result. Once we have your final approval, we will proceed and print!

WE WILL NOT PRINT UNTIL YOU ARE HAPPY WITH THE DESIGN!

Materials

Superior Quality Vinyl & Tint.

We cut our templates from the highest quality Vinyl & Vinyl Tint available on the market today. Since we use only the highest quality Vinyl & Vinyl Tint, it carries a six year guarantee, more durable and superior than our competitors cheap Vinyl that starts to degrade in just a few months.
Shipping & Returns

Anchor Room prides itself on getting the product that you order to your door in the fastest and safest way possible. We use USPS, Fed Ex and UPS. 

Special requests can be made to get our product to you faster.  Expedited shipping such as 2 day, 1 day, as well as overnight (requires that the order is placed by noon on a standard business day Monday-Friday) options are available at your expense and will require that the order is made by telephone - please feel free to call (757) 641-7829. 

International shipping is calculated by zone rates to the country/area that it is shipped to.  US Domestic shipping is also calculated by zone based on location/area.

RETURNS - Don't Like what you received? Give us a call or email and we will figure out what it takes to make it right!
Care Instructions

We highly suggest that you do NOT use a high pressure washer or a car wash for 2-3 weeks after installing any vinyl to ensure the product is fully adhered to the vehicle.

Installing Vinyl should be done in an environment of 70 degrees or warmer using proper methods and tools as outlined in the installation instructions.
Goof Proof Guarantee

We realize that 'oops' happens - if you mess up a piece - email us:

goof@anchor-room.com

Replacement piece(s) at a fraction of the cost!
Share
View full details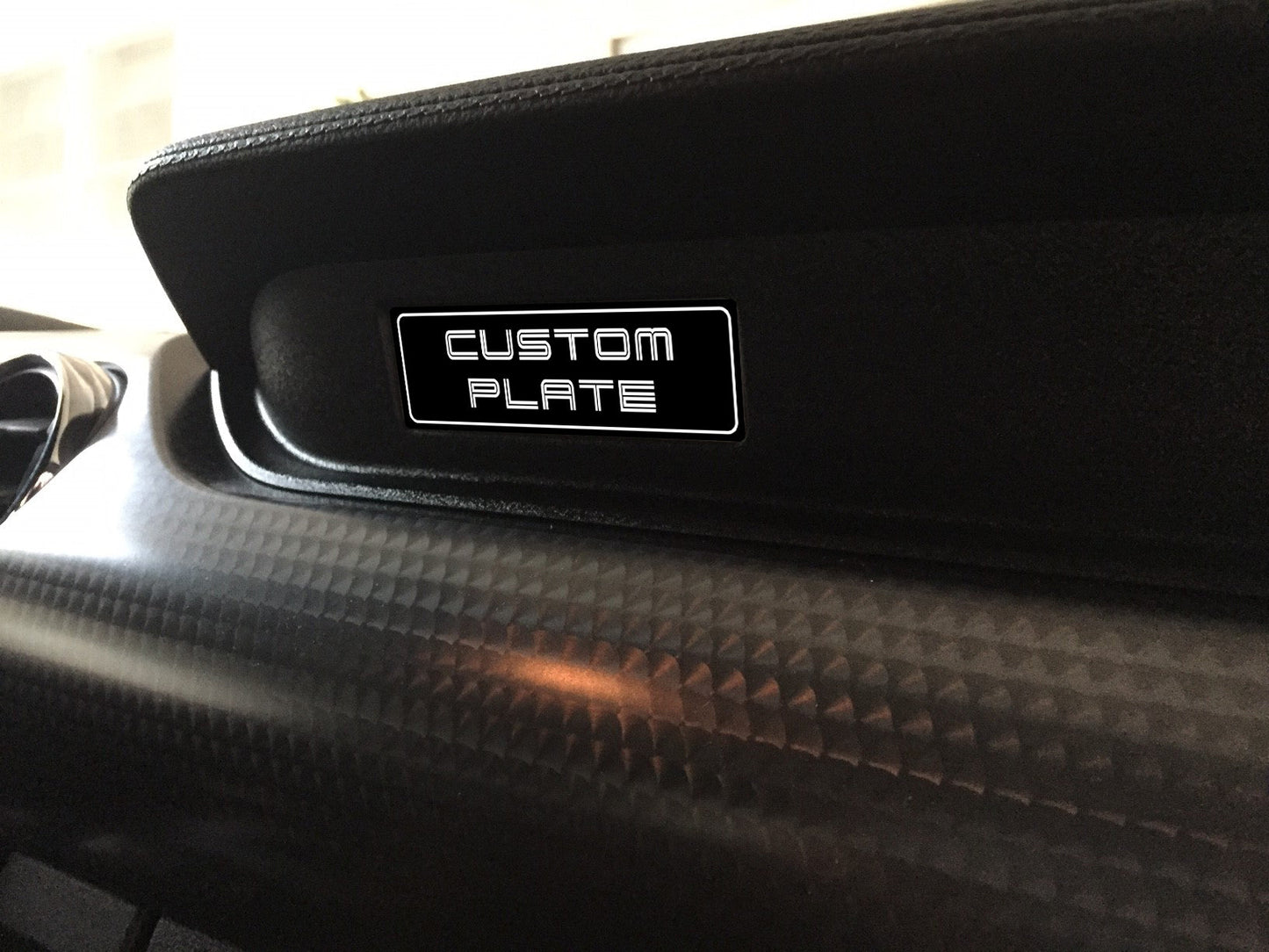 NEW VINYL INSTALLATION TOOL SUGGESTIONS
We have certain tools that we prefer to use for the different methods of Vinyl installation - Find them all in our shop!



*To contour vinyl around heavy curvature we suggest the use of a heat gun/hair dryer.

Don't see the vinyl color you want? Choose from our hand selected vinyl colors to get the perfect match for you!
2019 Mustang GT Custom Dash Plate
I was very pleased with my custom dash plate and the attention to detail.
Love it
Final result looks great. You have to remove the original plate to make it flush. Love the customization of this item.
AWESOME!
GREAT LOOKING DASH PLATE, GOOD PRICE AND FAST SHIPPING
Absolutely love my custom plate - one of a kind, no one has one like my deadpool plate - goes perfectly with the theme of my car - the process in working with Anchor Room was awesome!! I dealt with Alyssa who made my vision come to life - it took less than a couple of hours and it was shipped the same day that I gave them the OK to print it!
Best interior upgrade I've made.
they make your dreams come true in custom badging for your car. high quality and excellent service. 10/10 would buy again.