SKU:15FM_BP_CUST
Regular price
$115.00 USD
Regular price
Sale price
$115.00 USD
Unit price
per
Sale
Sold out
VINYL INSTALLATION TOOL SUGGESTION
 Sublimated full color beautiful Aluminum Build Plates.

Believe me when I say that these plates is something that will round off your car to become a show winning car!

The Plates are a perfect fit for your radiator cover - you know, that spot that looks like Ford forgot to put THESE plates.

These aluminum plates measure approximately (3"x 12") each and there are two for a reason. The left plate to show what your car came with from the factory and the right one with all the custom modifications. These are not cheap stickers, they are high quality sublimated aluminum plates that proudly display your cars' information.

What's included:
(2) Printed Aluminum Plates.
Installed Double Sided Trophy Tape.

IMPORTANT THINGS TO KNOW: ONE OF OUR GRAPHIC DESIGN ARTISTS WILL CONTACT YOU WITHIN 48 HOURS (USUALLY MUCH LESS) TO INTRODUCE THEMSELVES, JUST REPLY TO THAT EMAIL WITH ALL YOUR INFORMATION AND IDEAS (WE WILL TAKE CARE OF THE LOGO'S).

ONCE THE PLATE IS COMPLETED, A PROOF WILL BE EMAILED TO YOU, WE WILL NOT PRINT UNTIL YOU ARE HAPPY WITH THE DESIGN!
WHAT HAPPENS WHEN YOU ADD OR CHANGE MODIFICATIONS ON YOUR CAR? INDIVIDUAL PLATES REPRINTS WITH (MINOR) CHANGES ARE ONLY $20! IF YOU END UP MAKING MORE THAN A FEW CHANGES PLEASE CONTACT US FOR A QUOTE.

Materials

Superior Quality Vinyl & Tint.

We cut our templates from the highest quality Vinyl & Vinyl Tint available on the market today. Since we use only the highest quality Vinyl & Vinyl Tint, it carries a six year guarantee, more durable and superior than our competitors cheap Vinyl that starts to degrade in just a few months.
Shipping & Returns

Anchor Room prides itself on getting the product that you order to your door in the fastest and safest way possible. We use USPS, Fed Ex and UPS. 

Special requests can be made to get our product to you faster.  Expedited shipping such as 2 day, 1 day, as well as overnight (requires that the order is placed by noon on a standard business day Monday-Friday) options are available at your expense and will require that the order is made by telephone - please feel free to call (757) 641-7829. 

International shipping is calculated by zone rates to the country/area that it is shipped to.  US Domestic shipping is also calculated by zone based on location/area.

RETURNS - Don't Like what you received? Give us a call or email and we will figure out what it takes to make it right!
Care Instructions

We highly suggest that you do NOT use a high pressure washer or a car wash for 2-3 weeks after installing any vinyl to ensure the product is fully adhered to the vehicle.

Installing Vinyl should be done in an environment of 70 degrees or warmer using proper methods and tools as outlined in the installation instructions.
Goof Proof Guarantee

We realize that 'oops' happens - if you mess up a piece - email us:

goof@anchor-room.com

Replacement piece(s) at a fraction of the cost!
Share
View full details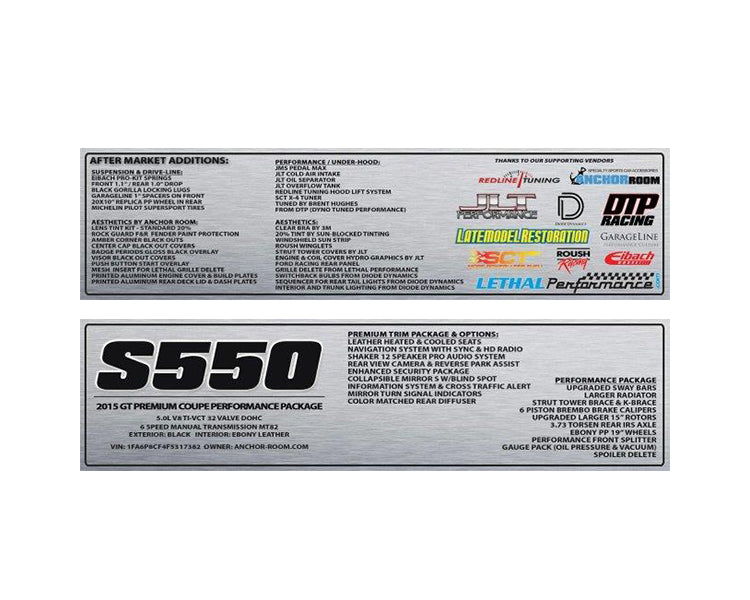 NEW VINYL INSTALLATION TOOL SUGGESTIONS
We have certain tools that we prefer to use for the different methods of Vinyl installation - Find them all in our shop!



*To contour vinyl around heavy curvature we suggest the use of a heat gun/hair dryer.

Don't see the vinyl color you want? Choose from our hand selected vinyl colors to get the perfect match for you!
Perfect
We love our dual radiator plates. Perfectionism, and excellent costumer service, Anchor Room has it.
Fantastic quality and service!
Anchor Room did a phenomenal job in working with me to get the plates exactly as I wanted them. The plates were shipped promptly and were packaged very securely. The quality of the plates is amazing! Strongly recommend using Anchor Room for anyone considering or needing plates like these!
Delivery was fast plates look great .wish I could put a picture here than you could see how great they are.
When I received the Build Plates I was blown away with the quality and perfect fit. I got many comments on them at car shows and now with the new season and the plates up=dated I bet more folks are going to start getting them!
I absolutely LOVE these plates - I was reluctant at first because I was not finished with my car and did not want to pay again when I would need my plates changed - Alyssa mentioned that reprints of plates after changes are made are only $20. She also suggested that if I was going to add some of the items soon, to go ahead and add them to the plate (duh moment on my part). I've had them on and had a chance to go to a few car shows and get a ton of great responses - thanks again for all the hard work on these great looking plates!